Thanksgiving is coming. Everyone has a favorite food that comes with the meal. I think most would agree that dessert is all of our favorite time! These fall recipes are sure to be good – from October through Thanksgiving!
Fall Dessert Recipes
Everyone's go to during the fall is pumpkin pie and pumpkin roll – and there is nothing wrong with that. Throw in a pecan pie and most people are happy.  This year, treat the taste buds to some new recipes!
East Pumpkin Crepe Recipe | Thrifty Jinxy
With pumpkin puree create these pumpkin crepes over a hot skillet. Cinnamon and whipped cream top this kid-friendly, crowd pleasing dessert. Image credit: Thrifty Jinxy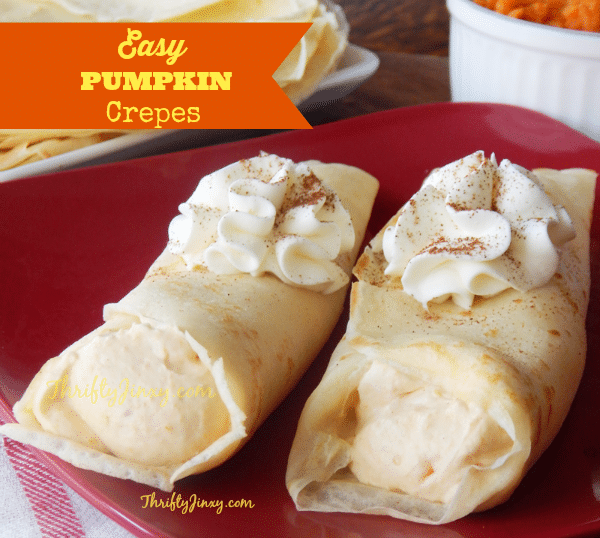 Candy Corn Swirl Cookies – The Simple Sweet Life
This homemade cookie recipe makes two dozen and is easy, but needs an hour for refrigeration. There's three colors, orange, yellow and white – for a fun burst of colors.
Pumpkin Pecan Cobbler – Well Plated
This pumpkin pecan cobbler creates its own hot caramel sauce as its bakes, for maximum flavors! It only takes about 10 minutes of prep, and goes well with whipped cream or ice cream! Image credit: Well Plated
Perfect Peanut Butter Cookies – Sprinkle Some Sugar
With the tastes of peanut butter, make these thick and soft cookies loaded with peanut butter and sprinkled with sugar!
Salted Caramel Apple Pie Bars – Sally's Baking Addiction
With homemade shortbread crust, an apple cinnamon filling, and streusel, create these apple pie bars that are easier to make than regular apple pie! The salted caramel is silky, and the crust is buttery, for a rich variety of flavors and textures! Image credit: Sally's Baking Addiction
Apple Pie Pastry Cups – Midget Momma
These bite sized desserts are sweet and filled with cinnamon, sugar, and a pinch of nutmeg for a palette of fall flavors. They serve well at a potluck, and with a bowl of ice cream!
Apple Butter Pie – Taste of Lizzy T
This apple butter pie tastes like apples but has the textures of pumpkin pie. It is layered in fall flavors, including 1/2 cup of apple butter. Image credit: Taste of Lizzy T
Pumpkin Whoopie Pies – Food Folks and Fun
Make your own whoopie pies this fall! They're filled with maple cream cheese frosting, and have pumpkins, spices, and maple in them.
Cake Mix Peanut Butter Brownies – Today's Creative Life
For a simplified but more interesting spin on box mixes, try this peanut butter twist on store bought!
Persimmon Almond Rosette Tarts – SugarHero
This dish includes the persimmon fruit, that is rich in vitamin A and C. It contains two parts – a homemade tart dough and a richly fall flavored filling. Image credit: SugarHero
Chime in! What are some of your favorite Fall Dessert Recipes? 
Worshiping With My Life,