Colored pencils, watercolors, washi tape, gelatos, and…worship? What in the world do these things have to do with one another? (And what on earth are gelatos, anyway? No, we aren't talking about the ice cream! 🙂 Here's an explanation of color gelatos, if you're interested.)  These and other arts and crafts supplies are part of an exciting form of worship through Scripture art: Bible journaling.
I've always written in my Bibles. One of my greatest treasures is one of my dad's old Bibles with notes in his very precise engineer's script.  Taking notes in one's Bible is not a new thing. All over the world, however, people are taking Scripture journaling to a new level these days. Using their regular Bibles or wide margin journaling Bibles (like this one) and a variety of arts and crafts supplies, Scripture journalers are putting art to page as they study the Word.
For many years, I felt that I was just "not a creative person". Then God began to teach me that my thoughts about creativity were in error.I shared about those lessons in my article Teaching Creativity for Those Who Don't Feel Creative:
Then came the summer when we studied the character quality of creativity in VBS.  I was hit right between the eyes with the realization that creativity is just that: a character quality.  I shared on my blog the game-changing truth I learned that summer:

 "Creativity is not a talent that one either has or does not have, it is an aspect of the character of God (the Creator of all!) and it is a character quality that we are to work to develop just as we are to develop patience, diligence, and kindness. That was a turning point in my thinking in the area of creativity. I was challenged and convicted that rather than excusing myself with 'I'm not creative,' I needed to not only be working to develop this character quality in myself, but in my children."

What an amazing realization that creativity is part of who we are as creatures made in the image of God! It isn't something that we either "have" or "don't have"; it is something that we can all develop and then use in the areas in which God calls us to serve. It is also something we need to teach our children.
Genesis 1:27 says that God created man in His own image. God is the Creator of all, the ultimate Creative. He created us to be creative as well! Our creativity is part of our worship to Him.  The late Francis Schaeffer said that we should use the arts "as things of beauty to the praise of God."
Scripture journalers are using arts such as drawing, painting, hand-lettering, and more to document in beautiful, creative ways the things God is teaching them through His Word.  It's a form of worship, and it is encouraging people to dig in and meditate on the Word as they transform it into art.
While the artistic media used is certainly a large component of Scripture journaling, the content is most important.  While the process is fun and creatively rewarding, the main goal is to meditate on God's Word as one creates, and to worship and glorify Him through creativity. Sermon notes, Bible Study thoughts, and Bible verses themselves can all be part of Scripture art journaling.  Devotional material and prayers can also be incorporated.
Thank you so much Jennifer, for writing this AWESOME post! This was the number one post of 2014! Jennifer can be found at Ponderings of an Elect Exile: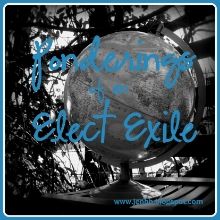 Be sure to also check out my 9 steps to studying the Bible….